Set up Public Utilities
Welcome to Wanatah!
Please come to the office at 104 North Main Street to get your account started. Please bring cash, check, or card for your deposit along with your photo ID. We will be ready with more details to help you with a smooth transition to Wanatah.
Pay Your Bill
The Town of Wanatah is now able to accept payments online through Paygov.us. Please have your bill and credit card information handy. The system cannot retrieve account balances.
Click the link below to be redirected to the secure site for payment.

Code of Ordinances
The Town of Wanatah has digital copies of all municipal code online. Click here to view.
Garbage/Recycling
Regular garbage pickup is every Monday at 6 a.m. and starting in 2021 is provided by Michiana Recycle & Disposal. They can be reached at 800-722-9710. Please call Michiana to schedule bulk item pick up. Call Town Hall with questions.
Recyclable materials are picked up every other Thursday. Click the graphic below to view the full schedule or download the Recycling Pickup Calendar. (Wanatah is Location "D" on the schedule)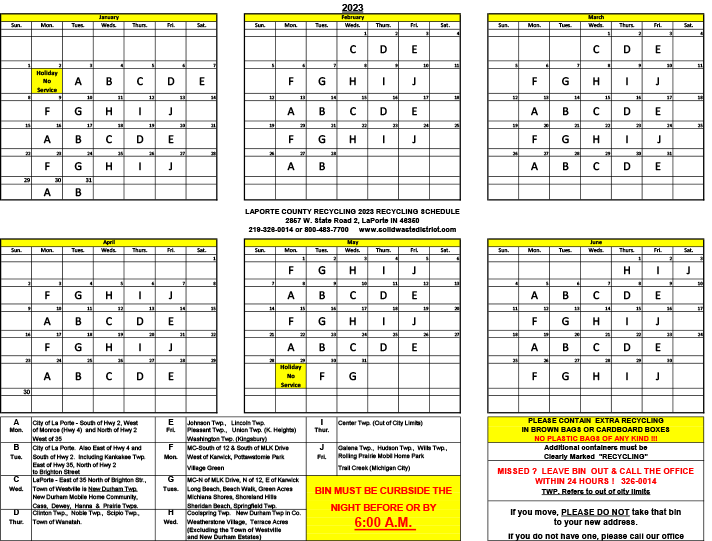 Food Pantry & Assistance
Supplemental United Pantry
Food and household supplies for low-income or needy families located at Hanna Fire Station, 4 W. Moore St. For information call (219) 797-3545.
REAL Services
Low-cost lunches served daily at the American Legion Post 403 for Senior Citizens. The Legion is located at the corner of W. Second St. & S. Washington St. Call (219) 733-2945 for information.
Meals on Wheels
Meal delivered weekdays at noon to homebound, elderly or handicapped persons. Free. For information call (219) 326-7889.
Bowls of Plenty – Free Soup Supper
Sacred Heart Church in Wanatah offers a free soup supper for all surrounding community residents to help those who are hungry or in need of companionship and fellowship.
You are welcome to join them on the 4th Tuesday of every month from 4:30 to 6:30 PM at the Sacred Heart Church Hall, 204 Ohio Street, in Wanatah.
For more information or to make a donations of time, food and/or money to ensure the success of this ministry, please call 219-733-2319 or email bowlsofplenty46390@yahoo.com.